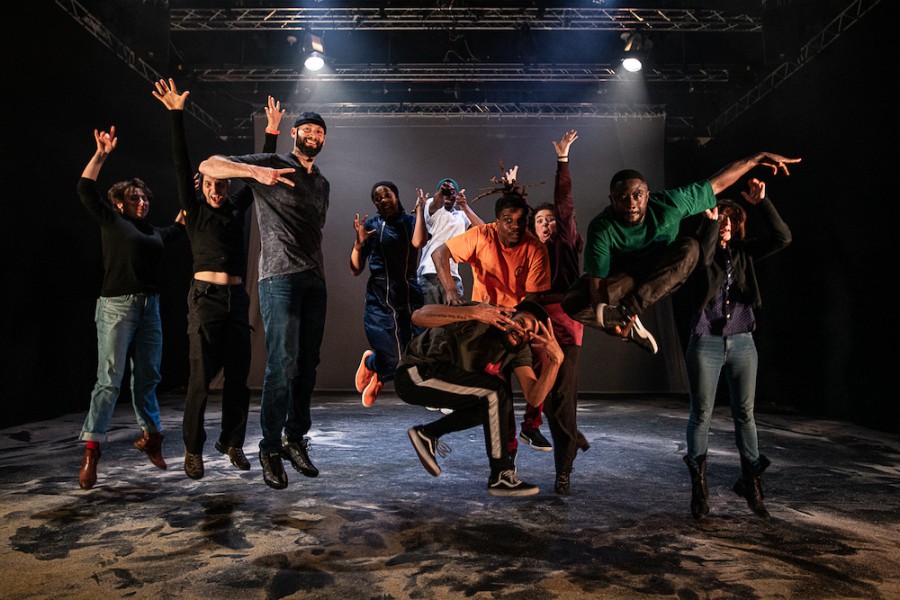 © René Löffler
Dance Piece
A Human Race
Grichka Caruge & TANZKOMPLIZEN
–
AUGENBLICK MAL! 2023
Location

AUGENBLICK MAL! 2023

Duration

01:00:00 h

Age

11+
A Human Race
Igor Stravinsky's "Le Sacre du Printemps" is a key work of the 20th century. After the scandal at its premiere in 1913, it is still one of the most uncompromisingly modern works today and is considered a challenge for choreographers. "Sacre" breaks with listening habits and outdated traditions, the piece leaves no one cold.
The dance form Krump is also danced resistance. Born in L.A.'s Black community, the dance style is the embodiment of social inequality, a vibrant form of expression that is raw and energetic, a creative outlet for aggression that allows the wounds of exclusion and racism to speak for themselves. Yet Krump simultaneously enables self-empowerment in the face of feelings of powerlessness in the face of unjustly experienced violence.
"A Human Race" gives a stage to the dance form that emerged on the street and has brought one of Europe's most accomplished krumpers to Germany, Grichka Caruge, as choreographer. Together with five international dancers, he tells a story of empowerment with "A Human Race".
Stravinsky's "Spring Sacrifice" is reinterpreted and questioned: Who do we "sacrifice" in society, who do we expel? What does it do to us to belong to a group or to be alone?
"Krump may look spectacular, but in reality it's all about feeling something. Krump puts emotion before every movement. With Krump, character expression is imperative, otherwise the character loses its essence." (Grichka Caruge)
Artists
Choreography 

Grichka Caruge

Dance 

Luka Austin, Solomon Quaynoo, Rochdi Alexander Schmitt, Mark Sheats, Émilie Ouedraogo Spencer

Dramaturgy 

Livia Patrizi
Staff
Production Management 

Carola Söllner

Stage and Costumes 

Silvia Albarella

Technical Direction/Light 

Martin Pilz

Light Design 

Arnaud Poumarat
A production by TANZKOMPLIZEN in the context of Offensive Tanz für junges Publikum Berlin, in cooperation with Cie Art-Track (F). With friendly support by Institut français and the French Ministry of Culture/DGCA.